---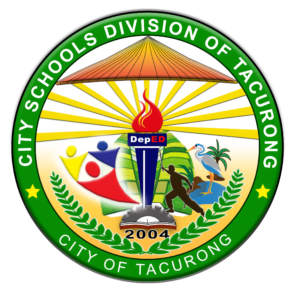 Salakot – symbolizes the diversity of culture as one community. It is located at the top for it governs the complete structure of CSDT as an educational institution. The twenty (20) lines in the salakot represent the twenty barangay that composes the City of Tacurong.

The Torch of Education – embodies DepED's mission in facilitating and nurturing every learner through giving hope and enlightenment by molding them with DepED's core values, Makakalikasan, Maka- Diyos, Makatao, and Makabansa.

The Rays – represent the learners from Kindergarten to Senior High School while the stars on both sides are guided in achieving every learner's dreams for a better tomorrow.

Laurel Leaves – symbolize success and triumph for the child's holistic development.

The Heron and Arnis – represents the entire beauty and strength of the city, its people. It also signifies the calmness and power of CSDT despite its day to day challenges. Along with this, are the different products found in the city and at the center bottom is the year (2004) CSDT had established.

Teachers, Internal and External Stakeholders – represents the collaboration of teachers, internal and external stakeholders helping together towards DepED's achievement of its goals, vision, and mission. These form triangles which represent the direction of success.

The BOOK and GEAR denote its flexibility in adapting new fields of studies and technological advancement.